Food, in the end, in our own tradition, is something holy. It's not about nutrients and calories. It's about sharing. It's about honesty. It's about identity.

Louise Fresco
In Africa, food is the way we show love amongst ourselves. Each food in our different cultures denotes what our cultures and countries represent.
If you visit an African home, the welcome you will receive is a warm hug and a well-prepared meal. It is a way of serving and caring for one another.
We have various cultural meals in different African homes. One of these meals, which is the most popular and has sometimes caused playful arguments and competitions among African countries, is Jollof Rice.
This sumptuous meal which comprises of rice, tomato, and pepper, garnished with assorted meats, fish, carrot, green peas, and sometimes crayfish, is a savory dish prepared and served in homes and parties across West Africa and even abroad. It is known to have caused one of the most exciting and heated food debates amongst Africans and in the diaspora. It is also known to be the go-to food that must not be missing in any West African party.
Imagine an orange-colored sweet meal with fried plantain, chicken wing or egg, and sometimes – beans or stew, with a bottle of chilled soft drink.
The Origin of Jollof rice
In the 114th century, the Senegambian region was ruled by the Jolof Empire. This Senegambian region is what is known as Senegal, Gambia, and Mauritania today.
The people of the Senegambian region had a traditional dish made with rice, fish, and vegetables which was sometimes added with some traditional spice.
They called the dish Thieboudienne.
Subsequently, this traditional dish began to spread around West Africa, from Senegal to Mali, Ghana, Nigeria, and yonder.
Today, it is the most common and popular dish in West Africa, though pronounced differently by some West African Countries; Jollof Rice is the real deal.
In their Wolof language, Senegal and Gambia call it Benachin or Riz au gras in French. The Malians call it Zaamè, while some other West African Countries retain its English name.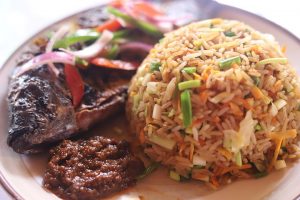 As Jollof rice passed through different African countries, several people began to learn new ways to prepare the dish. People became creative with the dish and started preparing it in diverse ways. One thing that connects this traditional Senigambian dish to the rest of the West African countries is the retained name, coined from the empire where it was first prepared: 'Jolof'. That name, now accustomed to the meal, has lingered on the mind of West Africans, and it has come to stay; Jollof Rice.
Over time, several West African countries came up with different ways to cook their own panache of Jollof rice. This has constantly led to the reformation of the preparation of this meal and the diverse ingredients used to prepare it.
Some people add tomato, red pepper, onion, scotch bonnet, and spices, while some take it up a notch and add a blend of flavors and seasoning like curry, ginger, thyme, nutmeg, and other flavors to enhance the dish.
This does not leave out the various complementary dish you can serve with this meal. (I bet you are hungry already).
Eating is not merely a material pleasure. Eating well gives a spectacular joy to life and contributes immensely to goodwill and happy companionship. It is of great importance to the morale.

Elsa Schiaparelli
Different countries in Africa and their love for Jollof Rice
We have seen the Origin of Jollof Rice and how it connects several countries in West Africa together. These countries are not only known for preparing special delicacies of this meal but they are also known for the unique ways they prepare the meal.
As popular as Jollof Rice is, you will be surprised to know that African countries prepare these dishes in diverse ways, and we will be looking at several West African countries and how they cook their Jollof rice.
Ghana Jollof Rice
Ghana makes their Jollof by first frying their prepared chicken or beef with meat stock. When it is well done, the rest of the seasonings like groundnut oil, pepper, spice, tomatoes, or vegetables is then added to the stocked beef or chicken. They sometimes add garlic, salt, bell pepper, or chilly to their stock to make it more savory. After the sauce is fried with the stock meat, the rice is then added and left to cook.
Ghanaians sometimes eat this meal with a special pepper called Shito or Salad.
Nigerian Jollof Rice
Nigerians are known for their relentless boast and pride in their Jollof Rice. They believe their Jollof Rice is the best and is even better than that of the originators of the meal.
Let's see what makes their Jollof Rice so unique.
Nigerians prepare their Jollof Rice by first parboiling their rice; this is to reduce the starch in the rice. It makes the rice sweeter and healthier to eat. Then, they drain the rice from the pot and add tomatoes, pepper, onions, maggi, salt, curry, thyme, dried fish, roasted fish, or crayfish to the burning oil inside the pot.
After the sauce is left to fry for a while, the parboiled rice is added to the sauce and stirred together. It is left to fry for a little while before water is added. Nigerians like to serve their aromatic Jollof rice with delicacies like coleslaw, beef, chicken, fried fish, fried plantain, moimoi, or vegetables.
Senegal Jollof Rice
In Senegal, Jollof Rice is known as Thieboudienne or  Ceebu Jen. The Senegal people are known for being the major originator of this African dish. Their Jollof Rice is sometimes called the Red Dish. As opposed to the orangey famous Jollof Rice, everyone knows (But what can we say, they are the originator). It is prepared distinctively with rice and fish. After soaking your rice with water, the fish is firstly marinated with garlic, black pepper, habanero pepper, and salt. Then they move on to the next section, which is preparing the stew or sauce.
Chopped potato, bell pepper, scotch bonnet, vegetable oil, cabbage, carrot, tomato paste, sliced onion, and garlic are fried in a separate pot. Add salt to taste
The end part is mixing the sieved parboiled rice, marinated fish, and sauce in a pot and leaving the rice to cook. This dish is sometimes served with vegetables.
This meal is usually very rich in calories and fat. A note for people who would like to have second or third helpings.
Cameroon Jollof Rice
Cameroon is best known for adding vegetables to its Jollof rice. So if you want to tell a Cameroonian Jollof dish from the Jollof rice from other countries, look out for the veggies.
To cook a steaming, delicious Cameroonian Jollof rice, get your cups of rice, blended tomatoes, garlic, ginger, onion, basil, maggi, cooking oil, green pepper, beef, carrots, and curry.
Their method of cooking is sometimes similar to that of the other countries. There is usually no right or wrong way to cook Jollof Rice.
To cook your Cameroon Jollof rice, parboil the rice in a separate pot and sieve when done. Then, blend the vegetables and cook the beef till it's done.
Take out another pot, add cooking oil, fry the vegetables, and add pepper, tomatoes, maggi, curry, spices, and other seasonings.
Pour your cooked beef and slice onions into the sauce. Leave to steam for a while before you add the parboiled rice and salt to it. Turn the rice together with the sauce and beef, then add enough water to cook.
Make sure your vegetables are soft and tasty as you prepare to eat them with the Jollof Rice.
Togo Jollof Rice
In Togo, Jollof rice is called Recette du Riz au gras or Riz au Graz. It is a special and common meal prepared with so much love among the Togolese.
Their Jollof Rice can sometimes be a little different because they don't put a lot of tomato or pepper. This gives the rice a lighter color than the Jollof we are used to.
The meal is prepared by adding rice, seasoning, slight pepper, spice, onion, carrot, salt, celery, and cooking oil into a pot with water and allowing it to cook.
It is mainly served with Togo beans or spaghetti and beef.
Mali Jollof Rice
This special delicacy looks more like Chinese rice when prepared because of the lack of tomato and minimal pepper, almost like the Togo Jollof rice.
To prepare a Malian Jollof Rice, cook the beef or chicken, sauce, and rice in three separate places before adding them together in a pot.
To prepare the chicken or beef, add chicken or beef, garlic, ginger (as little or as much as you prefer), onion, salt, pepper, and maggi, and leave the chicken or beef to steam.
Add cooking oil, onions, a little tomato, scotch pepper, bay leave, curry, salt, and maggi to the pot to prepare the sauce. You can also add green beans if you like and leave them to fry.
To prepare the rice, boil rice and add beans, carrot, or green peas to the pot of steaming rice. Leave to cook. Then add all together to steam. You have your Malian Jollof Rice.
Liberia Jollof Rice
You can prepare a Liberia Jollof Rice in less than two hours that can fill six people and leave them yearning for more.
The Liberians are notable for serving their meals with meat or fish and some celery.
Saute your meat or fish (whichever one you choose) with vegetable oil. When fully fried, add pepper, garlic, tomato paste, carrots, celeries, green beans, cabbage, maggi, and seasonings to the sautéed meat or fish. Add your rice and slice some onions to the flavoury dish. You can also add some meat stock to your meal to enhance the taste. Finally, add some salt and leave the meal to cook.
This is one of the finest dish to eat in West Africa.
Sierra Leone Jollof Rice
This is basically cooked the same way every other country's Jollof rice is cooked, except with little pepper or tomato. You might have to prepare stew or sauce to eat Sierra Leone's Jollof rice. It is somewhat like 'colored white rice.'
Gambia Jollof Rice
Gambians call their Jollof rice, Benachin; they are so good at their meal that they once participated in a Jollof rice competition among other West African countries and won. Their Jollof rice is not so different from Senegal's, which is not a surprise, given that they are one of the originators of the meal.
Congo Jollof Rice
Another African Country with special Jollof delicacies is Congo, with almost the same cooking method as that of the Malians. In Congo, it is called Loso Ya Bulayi.
Jollof Rice
A rather unexpected Jollof rice Lover is Botswana (A South African Country).
This shows how important and delicious Jollof Rice is. Jollof Rice is the life of the party in these countries. There is no complete celebration without this meal. So we can say:
Jollof Rice makes African Countries go round
Going through the above recipes and methods of preparing this meal, we can see that there is little to no difference in the preparation of this meal, except for some added ingredients here and there.
Jollof Rice is not only cooked and loved in African countries but also popular in some international countries. Several people in foreign countries and yonder have also taken a liking to the sumptuous meal of Jollof Rice.
The Western world people join hands every year to celebrate Jollof festivals and 'World Jollof Day' in their countries.
Social media is also another place that promotes the value of this one meal that has found a place in everyone's heart.
Jollof Rice can be found in homes, wedding ceremonies, naming ceremonies, funeral ceremonies, Birthday Parties, Get together, etc., and anywhere there is any celebration of any kind.
Jollof Rice is a must-eat dish for anyone planning a visit to any country in West Africa.
Most of us have fond memories of food from our childhood… Food has a way of transporting us back to the past

Homaro Cantu
Which country's Jollof Rice did you like the most? Kindly comment below.
___
This blog promotes content targeted at showcasing the rich culture and values Africa embodies, through music, food, and other lifestyle content, to the world.